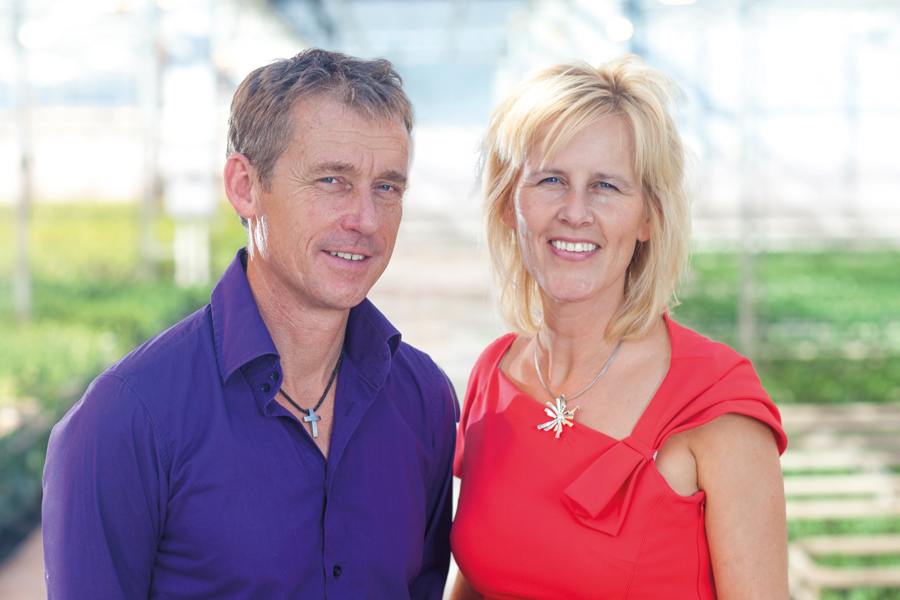 Montana Lisianthus is a greenhouse-nursery specialised in growing this exceptional cut flower Lisianthus. Located in Poeldijk/Westland (between the sea and Flora Holland).
Frank van Holst, once started out as a crop advisor for Rockwool, had a dream: To start his own greenhouse-nursery! He already got his growers-nose from his parents and after he first had finished University and advised other growers; He decided most of all he wanted to grow by himself. But not on his own. Preferably together with a partner.
So he found himself a nice, spontaneous, handsome young flower (girl) from a growers family with, according to his own dad, with 'golden hands'! Corine van den Berg. She surely turned out to be the love of his life! And that was the beginning.
How it once started
This all happened round 1990; they bought themselves some land in Poeldijk at the Casembrootlaan and worked very hard together with the family. The name of the company became Montana, because that's an elegant (almost Spanish) translation of his girl's last name 'Mountain'.
At first they started to grow on rockwool: what a challenge!! It turned out the sensitive roots of the Lisianthus couldn't resist this way of cultivation.
The fertile loam soil which belongs to the greenhouse was definitely a better choice for the Lisianthus.
After 7,5 years hard work a new glasshouse was built.

Another 7,5 years later, neighbours land was purchased and doubled the company.

Also a double Lisianthus variety had been added to the assortment.
Innovative
Around the year 2000, when everybody in 'Lisianthus-land' grew the common Lisianthus varieties of those days. Montana discovered a new variety: Rosita
Frank fell in love with this beautiful, firm Rosita flower in the lovely Rose-shape with buds: like little tufts of cream, who elegantly turn and swing while they open. 
And together with the more beautiful flower shape they discovered: stronger flowers , firm flower petals, stronger branches, more buds and a much better usage-life! They recognized a new future for Lisianthus. After a few years it turned out the reachability of Lisianthus was much more expanded because of all this. Transportation, handling and transportation-time were no longer obstacles because of the huge quality improvement. The export area has increased enormously: the world is lying at her feet:)